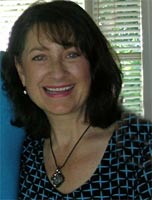 UPDATE 2018: Time to re-build the Sustainable Living Foundation website with WordPress. This wonderful family foundation operates the annual Run for Zimbabwe Orphans to support nearly 100 orphans at the Mukumbi Orphanage in Zimbabwe. They also support sustainable gardens in Paraguay.
Tatiana Promessi career highlights: developed a versatile set of business skills, first as an entrepreneur with a tourism-based business at Lake Tahoe for seven years, and then through working various sales and marketing positions in the printing industry for twenty years. My interest in web publishing developed when I managed the user-experience and wrote content for a printing corporation's website. Collaborating with the company's web support company fueled in a desire to do the magic myself.
"I enjoyed using my business background to help clients enhance their web presence and gain results from good content, beautiful presentation and solid search engine optimization practices."
I particularly enjoyed working in a collaborative environment and built a network of talented designers and web development professionals, who mentored each other and were eager to share their talents and skills.
Currently I'm back in explore mode, not sure what's around the next curve. Life is exciting. I'm interested in long walks, across countries for internal growth which will translate into external service.

Contact Phone: 650-941-7422